The Children
Marshall School
Marshall School began in June of 2005 in the village of Madhavapatnam.  At that time, there were 5 students in the kindergarten and 1st standard classes attending the school in a rented house.   In 2006, with just $6,000 of donated funds, an old house was purchased to hold the growing number of students.   Each year, a new class was added to accommodate the children as they completed their yearly studies through 10th standard.  Since then, additional funds have been donated to remodel and enlarge the Marshall School facility.
Currently, 450  children are enrolled in Lower Kindergarten (LKG) through the 10th standard.  A handful of those children have parents who can afford to pay for their school fees.  The rest of the children come from very poverty-stricken families.   Joyful Journeys, Inc. strives to provide a completely "free" education for the children from those families.   213 of the  "poorest of the poor" children currently have a sponsor whose $20 monthly contribution pays for their books, supplies, uniforms, shoes, and teacher salaries.  Students learn three languages: their area language of Telugu, the national Hindi language, and English.  By meeting specific requirements such as adding a computer lab, science lab, physical education teacher, and 1,000 square yards of playground land, the school was officially recognized by the Indian government in early 2010.  With this primary thru secondary school recognition, students are now able attend Marshall School from LKG to 10th standard and be fully accredited.   Only students who graduate from a government recognized secondary school are allowed to go on to college, and many of our Marshall School students are doing just that!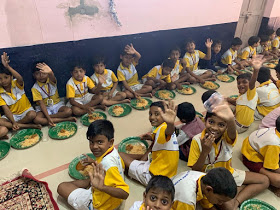 Lunch Bunch Students
The Lunch Bunch program began in 2011, as a means to provide a hot, nutritious meal for students whose families were unable to send food to school with them.  Knowing students who don't eat enough aren't able to focus on their studies, nor are their brains getting the nutrition they need to grow, we implemented this program to ensure that all our children would have full bellies.
$10 a month is all it takes to provide daily lunches for a child in the Marshall School, click here to contribute to this ministry.
Joyful Journeys Hostel
"Orphans" in India are not always without a mother or father, but they are from poor or destructive families. The children who don't have parents may live with a relative or an appointed guardian who typically struggles to financially provide for the child. These children are often called "street children" as they spend their days and nights on the streets begging for handouts for themselves and their families.
At one of the special Marshall School celebrations in 2006, 3 street children came to check out what was going on- they were so excited about what they were seeing that they wanted to become a part of the school.  These children not only became part of the school, but they were also taken in by Novahu and Manjula Valluri as "orphans."  They ate meals with them, then slept overnight in the school house building. As the word started spreading, Novahu and Manjula were often approached by desperate parents, relatives and guardians, who were seeking a better life for their child. Hearing that Joyful Journeys Hostel could provide children with three meals a day,  shelter, clothing, and a quality education all within a loving family environment, many of these adults made the hard decision to place their child in the care of the hostel. The majority of the children remain in contact with their family members, seeing them on holidays and summer break, as they thrive in their new environment.  
In 2006, a building was purchased with donated funds to serve as a hostel for these children.  Using additional donated funds, a new building was constructed in 2009 to house the hostel children on the ground level and the Valluri family on the second level. Funds were then raised over the next two year period to construct a third level on this building for separate dormitory sleeping areas for the boys and girls.  Construction for this new level was completed in July of 2011.  In 2021, due to changes in government regulations, construction began for a new boys dorm on top of the Light Center. There are now 30 children living in the hostel.  All of these children also attend Marshall  School.  To check out the construction pictures, go to the Photo Gallery.